PETE TITTL: Spice is nice at inventive Haveli Indian Grill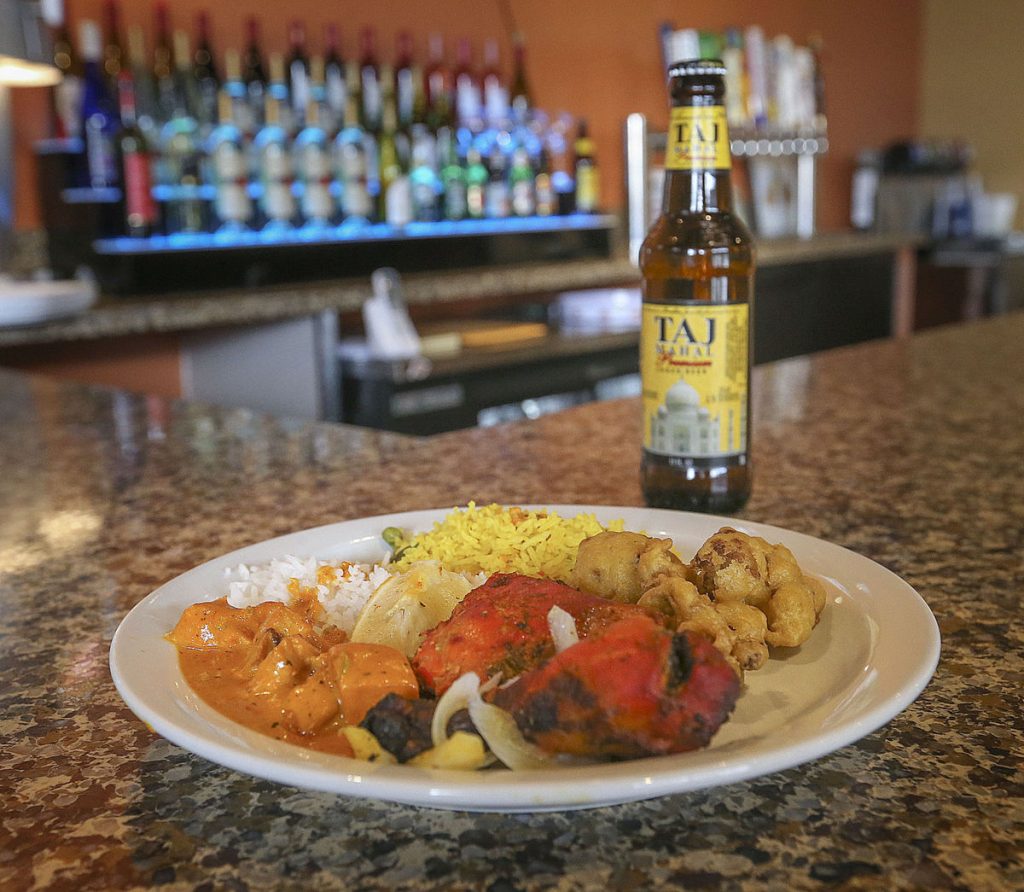 This year we've had a real burst of growth in Thai, sushi and Indian restaurants, and what's happened here at Haveli Indian Grill was inevitable.
Fast casual — think Chipotle — remains a hot niche in the restaurant industry, and the bright folks here thought what better way to add a fresh twist on this familiar cuisine. What we have is a small place dominated visually by a bar and some flat-screen televisions that somehow has a homey atmosphere because the staff running it is so genuinely friendly they make you want to come back the next day.
The location is in that growing shopping center just south of Stockdale High which has Broken Yolk Cafe, the amazing full-service Me-N-Ed's with the craft beer tap wall and Umi Sushi, a place we'll be writing about soon.
They're not afraid to do some fusion cuisine here, offering American twists to cater to the takeout trade. For example there's a small traditional Indian cuisine menu, as well as a sizeable vegetarian bill of fare. There are 12 beers and ciders on tap, some house wines, a dozen or so small tables and a vibe that fits the goal of being fast casual.
On our visit we stuck to the traditional menu, choosing chicken curry ($12.99), a lentil standard from the vegetarian menu called dall mahni ($9.99) and a couple naans, garlic and butter ($3 each). Our waitress said we could choose the spice level: medium, hot and extra Indian hot. We selected medium and that was a mistake as it was far too polite. The bartender later advised that with a curry dish we should have chosen at least hot if not Indian hot. In response to a review of a previous Indian restaurant, a reader who visited afterward wrote me that one particular dish should be so hot that you have to cool your tongue with ice cubes between bites. I have a feeling that if you desire such a spice level they'll give it to you here with the extra Indian spicy.
The staff here is so eager to please that I'm sure they'll work hard to meet your expectations. The lentils were slow cooked with white onions in a soupy stew, the chicken in the curry soft as if it were in a stew. Though they brought out white rice, spooning either into the fluffy naans was a great meal.
As it was, the food was fragrant, fresh and quite satisfying, especially at these prices and portions, which left enough for leftovers, even the breads, though we almost couldn't resist enough to take those home. And the chutneys are a strength here, as we learned when they brought out a tamarind chutney and a cilantro-mint-coriander chutney with some crispy Indian flatbread crackers before our food arrived. On their fusion menu they offer many of the selections with a choice of two chutneys, and you see the burger patties ($6.99) served on two mini naans with chutneys. Clever spin.
That choice is part of the fusion menu that really offers a lot of great options at lunch or for those trying to eat light. Wraps filled with either basmati or brown rice, chickpeas, chicken, yogurt chutneys — all sorts of possibilities. Loaded masala fries with your choice of meat. They have offered an all-you-can-eat buffet on the weekends for $11.99.
Haveli Indian Grill is a place with a lot of youthful energy. Check it out.