PETE TITTL: Umi Sushi & Sake a star addition to southwest complex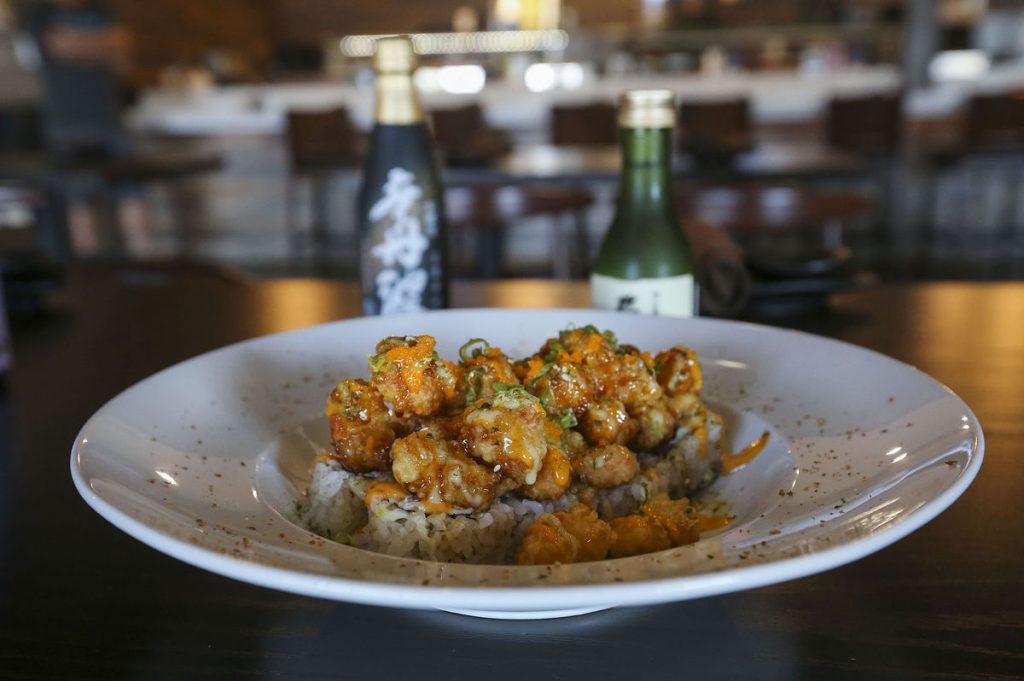 When it comes to shopping centers with impressive food choices, it's hard to beat the new complex just south of Stockdale Highway on Buena Vista Road.
It's taken some time, as it seems the impressive opening of Broken Yolk was a lifetime ago, but since then we've seen the new Me-N-Ed's, Haveli Indian Grill and now Umi Sushi & Sake, and what I appreciate is the consistent level they're all operating at, which bodes well for the most southern and western side of town. You have dining options now no matter what your mood.
What we've noticed is that the decor is impressive and inviting in all these places, and the variety of the fare on the menu at Umi sets it above its neighbors. My companion couldn't get over her positive first impressions of the inside. The walls were covered with faux reclaimed wood fastened in that trendy shiplap style, pendant glass globe lighting, a huge wine rack facing the 13-seat sushi bar near the kitchen, an unfinished ceiling, a very tasteful polished cement floor — all contributing to an industrial style that was accented by a lighting scheme that would change colors occasionally. There was not a lot of TVs on the premises—one behind the sushi bar. The cumulative effect of all this was quite relaxing and quite conducive to conversations. The booths are against the wall to the right of the entrance, and there are plenty of tables that can be rearranged for larger groups on the floor.
The kitchen produces almost anything. There are lunch specials, bento boxes (weekday lunch only), soups, noodles, hot plates, rice dishes, a dozen salads and baked, fried and fresh rolls. It seems no matter what your whim is, Umi can meet it. On our visit we went for the ultimate salmon fresh roll ($13.95), the mustang ($13.95), which had some tempura elements, and the spicy chicken sizzling plate ($14.95), one of the entrees that came with salad with ginger dressing and miso soup.
Everything we sampled showed an attention to detail that is common in fine dining establishments. Something as small as my companion's glass of chardonnay, which was served at the perfect temperature, not too warm and not too cool. (There's an extensive list of wines and craft beers as well as so many sakes, which you'd expect with that beverage in the restaurant's name.)
The rolls we were served were both attractive and tasty. The salmon roll had fresh asparagus and salmon inside, and on top more salmon, soy paper, green onion and avocado, all crowned with a yuzu ponzu sauce, the perfect gingery-citrus sauce to bind it all together.
The mustang was irresistible, with spicy crab meat, avocado and shrimp tempura inside, seared salmon, more spicy crab, green onion and orange masago caviar on the outside, with a spicy mayo and eel sauce. It was hot mess when you looked at it, strands of crab all over on the outside extended like arms, but quite intriguing.
The kitchen is not exaggerating about the heat level of the sizzling spicy chicken, presented with white and green onions and green peppers and sprinkled with sesame seeds and served with a side of steamed rice. Seriously sinus clearing.
Service was as pleasant as the ambiance and the food, thanks to server Stephanie, who handled all her tables with a comforting grace. I think she, like this restaurant, will have a long, profitable run.