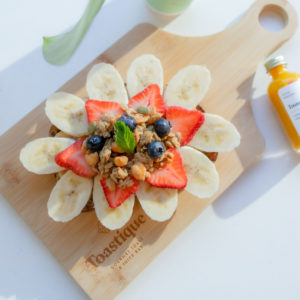 Get ready, Bakersfield! One of the nation's fastest-growing healthy cafe franchises, Toastique is coming to Belcourt Village Seven Oaks! Toastique is a boutique gourmet toast and juice bar offering a fresh, chic, rustic experience that perfectly transitions from early on-the-go breakfast to corporate lunch to post sweat session fuel up.
Local franchise owners, Roger and Tammie Miller, a couple devoted to healthcare, are excited to introduce the healthy brunch offerings, smoothies, cold-pressed juices, and more to Bakersfield.
"Toastique screams quality in everything it does," says owner, Roger Miller. Their emphasis on healthy living and creating food made with whole, healthy ingredients convinced us this would be a perfect fit for Bakersfield. Being in healthcare, Tammie and I are fully aware of the need to follow a healthy diet, unfortunately we recognize it's not that easy. After a long day at work, it's difficult for most families to go to the grocery store, pick up healthy ingredients, and come home and cook. These are struggles we face, and we know we are not alone. We're excited to see Bakersfield embrace it as much as we have."
Located at the corner of White Lane and Buena Vista Road, Toastique will be a welcomed addition to the vibrant and growing Seven Oaks community as a part of phase II for Belcourt Village and is scheduled to open in 2023.
"Like Belcourt Village, Toastique brings a fresh approach to Bakersfield. Their mission of making healthy eating exciting, simple to understand, easy to enjoy, and above all, accessible to everyone aligns with Bolthouse Properties' vision to build a better community. As Roger and Tammie begin their journey, we are excited to support them," said Executive Vice President of Development, Bruce Davis.
Over the coming months, the community can expect to hear more exciting revelations of Phase 2 for Belcourt Village as construction is expected to commence later this month.
More information on Toastique can be found at toastique.com and Instagram @toastique.