Tenants prospering at Mustang Square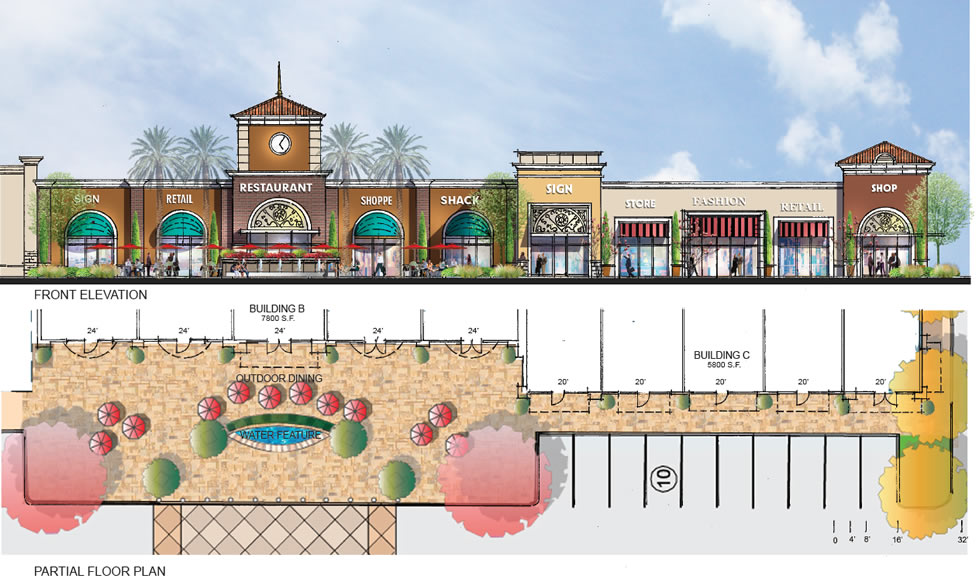 New retail in the Seven Oaks corridor accommodates the rapidly growing demand
The Mustang Square neighborhood retail center located on White Lane and Buena Vista across the street from Stockdale High School and the new Belcourt community in Seven Oaks is in the final phase of its development.
The latest phase of Mustang Square will boast a distinctive brick clock tower, colorful fabric awnings, decorative metalwork and an inviting outdoor patio dining area, highlighted by a fountain and landscaping. The tenants already committed to this new phase include Me N Ed's Pizza, Angel Donuts, Palazzo Nails & Spa, Star Beauty Salon, and a new much-anticipated Sushi restaurant.
Bakersfield-based Cruz Thru Express has grown to employ more than 150 employees — with seven locations here in town and two in the Lancaster-Palmdale area. Their success relies on state-of-the-art innovation, fresh, customer-centered staff training, and the forward thinking ability to select only the best locations.
"This has been a winning location for us," said Roselle. "It's near some of Bakersfield's premier businesses and some of the city's most desirable residential neighbors. The demand for Cruz Thru Express services has been strong from the moment we opened our doors in Mustang Square."
Kern Schools Federal Credit Union is equally pleased with its community branch at Mustang Square, having also previously committed to the area by moving its headquarters to the Seven Oaks Business Park also along Buena Vista Road. Located adjacent to Seven Oaks neighborhoods, Stockdale High School and minutes from California State University, Bakersfield, Kern Schools' new headquarters building and branch office are convenient to many of its customers. This growing corridor south of town "is much in line with our current and future needs," said Michael George, Kern Schools' Chief Marketing and Advocacy Officer.
While Mustang Square was acquired by Bolthouse Properties after the center's initial development, its later phase embellishments are consistent with the Seven Oaks style. Building continues at Mustang Square with the newer phases almost fully leased before construction is complete.
Following the completion and lease up of "Grand Island Village" the Seven Oaks neighborhood center, the pre-leasing velocity of Mustang Square's newest buildings has provided the momentum for Bolthouse Properties' to commence work on its upcoming retail center located at the entrance to Seven Oaks Business Park at Bolthouse Drive and Buena Vista Road. This property is the initial design phase is already generating significant tenant interest. This new center will provide the needed services for the new businesses within Seven Oaks Business Park as well as the local residents.
"We're pleased to welcome Sully's Chevron gas and convenience store to the new Seven Oaks Business Park retail property. They're building on the successful model established at Grand Island which will include expanded menu choices and casual outdoor patio dining," according to Bruce Davis, VP of development for Bolthouse Properties. He noted that additionally several large pads are being targeted for restaurants in this new retail development.
Seven Oaks Business Park's new retail center will embody the "live-work-play" lifestyle of Seven Oaks and is within walking distance of the new businesses that have chosen to make the Seven Oaks Business Park their home such as Houchin Community Blood Bank, Kern Schools Federal Credit Union, Seneca Resources, Village at Seven Oaks Assisted Living and Memory Care, Alzheimer's Disease Association of Kern County, Hoffmann Hospice, Northern Digital Inc. and New Horizon Surgery Center. Bolthouse Properties and Bolthouse Investment Management Services have further shown their commitment to the business park by relocating their corporate offices to the recently completed office building on Bolthouse Drive.
"The success of the businesses and retail tenants attracted to the Seven Oaks/Buena Vista corridor will ensure that a tradition of excellence remains here for generations to come," said Davis.
Laura Wiener is the owner of Spectrum Communications in Bakersfield.