Bolthouse Properties creates Bakersfield 'medical hub'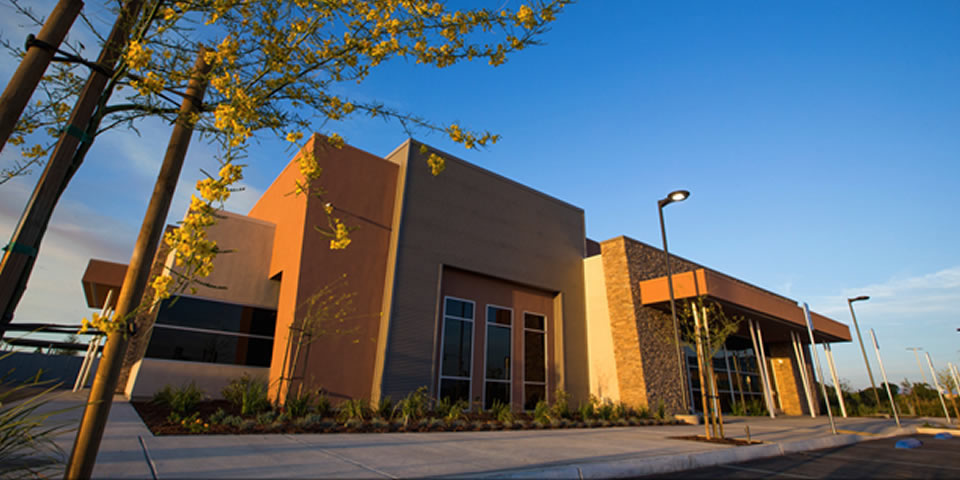 When Houchin Community Blood Bank opened its doors in Bolthouse Properties' Seven Oaks Business Park three years ago, it was the start of many medical and health-related projects moving to this desirable Bakersfield location.
Houchin and the other companies that have followed reflect the increasing demand for medical services in southwest Bakersfield and the related job creation that is bolstering the region's economy.
When Bolthouse Properties unveiled its plans for a massive 276-acre master planned commercial development along Buena Vista Road, south of White Lane, one of the first services was Houchin.
"Bolthouse actually donated five acres to us to help," recalled Greg Gallion, Houchin's president and CEO, who explained the nonprofit organization had been searching for a way to expand and bring its operations under one roof. Learning of Houchin's need, Bolthouse Properties executives offered to donate property in its new business park.
Houchin's mission is to encourage people to donate lifesaving blood products as a way of giving back to their community. Bolthouse Properties wanted to give back in the same way, Gallion said.
"A prime attraction for the medical community is that Bolthouse Properties offers doctors and medical services the chance to purchase property within the park," said Davis. "That is highly desirable for the medical industry."
That model has proven to be an enticing draw. Following Houchin's opening, DaVita Dialysis moved to the Seven Oaks Business Park. And the Seven Oaks Assisted Living and Memory Care complex opened its doors last year. Work is nearing completion on the Alzheimer's Disease Association of Kern County's new offices and service center, which includes adult day care, within the complex.
Recently winning a Bakersfield Beautiful Award for architecture/design is Hoffmann Hospice's 25,000-square-foot inpatient hospice home that opened last year in the Seven Oaks Business Park. Compassionately designed by Matrix Architects and built by Klassen Corp. to meet the special needs of hospice patients and their families, Hoffmann's project includes such amenities as a theater room, library, family lounges, dining parlor and chapel graced with a stained glass masterpiece.
Completed last month is the state-of-the-art New Horizon Surgical Center in Seven Oaks Business Park. The 13,000-square-foot facility designed and built by Bolthouse is scheduled to open later this summer.
"The market just leans towards the medical industry right now," said Davis, noting that the high demand for medical services has been a factor in fueling stable and consistent growth at the park.
"The healthcare industry continues to grow dramatically," said Richard Chapman, president and CEO of the Kern Economic Development Corp. He noted Bakersfield continues to build on a solid medical infrastructure, which began because hospitals and physicians wanted to be able to treat people locally and keep patients from having to travel to Los Angeles or San Francisco for care.
"We are expecting that 85 percent of California's future growth will be in the San Joaquin Valley," Chapman said. "That's due to build-out from urban areas. People are moving out of big cities and closer to us. So, in addition to aging baby boomers and normal population growth, we've got that influx of people."
Bolthouse Properties' Seven Oaks Business Park also includes many prominent businesses, including the headquarters for the Kern Schools Federal Credit Union, the western regional headquarters of Seneca Resources, and a recently completed office building, which will include the new headquarters for Bolthouse Properties. Also opening this year is the 14,000-square-foot headquarters for Northern Digital Inc., a firm of control systems engineers and consultants for the petrochemical and water waste industry.
These projects have created the synergism and economic energy that is supporting the growth of Bakersfield's newest and innovative "medical hub."
"When development of Seven Oaks Business Park started, it was formulated to garner several key industries," said Bruce Davis, Bolthouse Properties vice president of development. "Our master plan is much like a residential one. Our planned commercial development protects property values and promotes aesthetics, workability and livability. Development also is compatible with the many adjacent homes."
Also adjacent to Seven Oaks Business Park are retail stores and restaurants in the Grand Island Village and Mustang Square to support the park's business occupants and the surrounding residential areas. Bolthouse Properties will soon be adding additional retail stores and restaurants to Seven Oaks Business Park along Buena Vista Road.
Davis said Bolthouse Properties is taking a long-term approach to the development of its Seven Oaks Business Park.
"We're not in a rush. We're doing this in a very orderly fashion," he said. "This is a project involving over a million square feet of commercial space. And we are very excited about it."
Laura Wiener is the owner of Spectrum Communications in Bakersfield.