Bolthouse Properties' Seven Oaks 'medical hub' continues to grow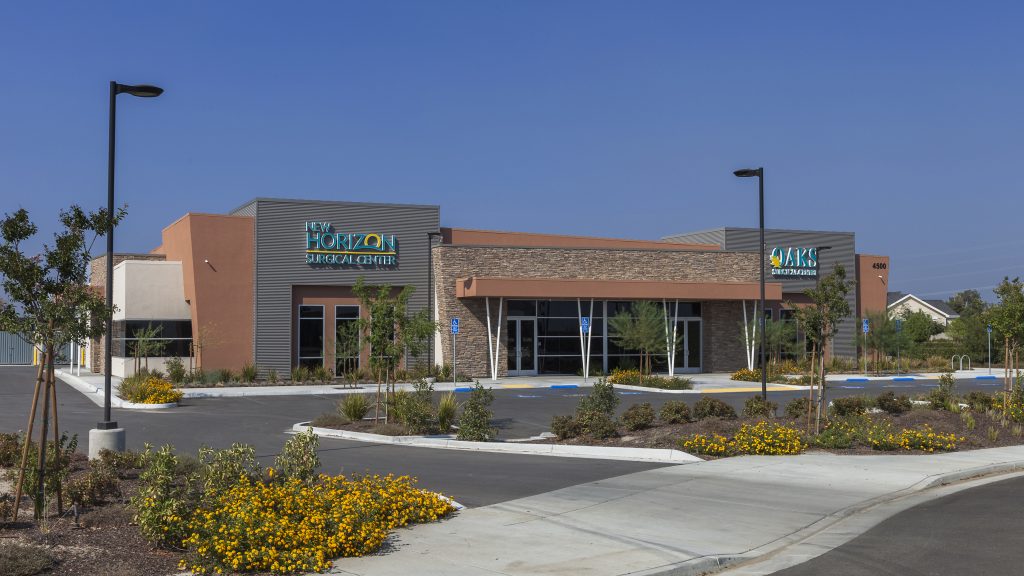 Bolthouse Properties' "medical hub" in Seven Oaks Business Park is growing as the demand for local healthcare services increases and the city of Bakersfield's development continues to move into the southwest quadrant.
A recent addition to Seven Oaks Business Park is the newly completed Alzheimer's Disease Association of Kern County (ADAKC) facility just to the north of The Village at Seven Oaks Assisted Living and Memory Care complex on Buena Vista Road. ADAKC relocated Kern County's only adult day care for those with Alzheimer's to the Business Park allowing the Center to provide services to an additional 60 people.
Last year also saw the completion of the state-of-the-art New Horizon and Oaks' Surgical Centers that was Bolthouse Properties, LLC's first design and build-to-suit project in the Business Park. Hoffmann Hospice's unique 25,000-square-foot in-patient hospice home opened in late 2015 providing patients with round the clock hospice care, an inspiring stain glass walled chapel to celebrate the sanctity of life for families along with 18 private patient suites that open on to a secluded patio, and more. The building has also been awarded the 2016 Bakersfield Beautiful Award for architecture/design.
Bolthouse Properties, LLC will complete construction this winter for Centric Health, a multi-specialty group practice, who will open an Urgent Care facility in the corridor's newest retail area in Seven Oaks Business Park.  Centric Health's recent decision to add a Pharmacy adjacent to the Urgent Care will provide a convenient location for Seven Oaks, Belcourt and Highgate residents as well as those who work within the Seven Oaks Business Park.
Having recognized the need for additional medical services in Southwest Bakersfield, Centric Health has adopted a long-term view regarding their expansion into this growing medical hub at Seven Oaks Business Park.  They are currently in escrow to purchase property for a medical office building in the Business Park.
Additionally, an office condominium complex is in the planning phase in the Business Park, which will allow for private ownership of office space.
"Seven Oaks Business Park provides medical professionals with the opportunity to purchase the land and own their facility rather than lease, creating equity for their business and increasing the value of their enterprise." explained Bruce Davis, Bolthouse Properties' Senior Vice President of Development. "
In Bolthouse Properties' nearby Mustang Square, a group of family practice physicians also relocated their Premier Family Health Care office here, closer to Seven Oaks.  These are just the latest healthcare providers to join several of Bakersfield's established medical organizations that have relocated to or have expanded their operations into Bolthouse Properties' master planned business and commercial development, south of White Lane, along Buena Vista Road.
"Seven Oaks Business Park has been fortunate to have established a substantial group of owners with the vision to follow the City's growth and relocate to a master planned business park in Seven Oaks" added Davis.
Kern Economic Development Corp. and state statistics predict growth in the medical industry, with Bakersfield's location and economy likely to benefit. Driving this growth is a combination of an aging population that requires increased medical care, a population that is naturally growing and new residents moving into the area.
"We are expecting California's future growth to be significantly in the San Joaquin Valley," said Richard Chapman, president and CEO of the Kern County Economic Development Corp. "That's due to build-out from urban areas. People are moving out of big cities and closer to us. So in addition to the current inhabitants and normal population growth, we've got the potential influx of people, too."
With KEDC monitoring Kern County's job growth rate, Chapman noted that jobs in the medical industry are increasing at about 3 to 5 percent a year. Over the past decade, Kern County has built a solid medical infrastructure, Chapman said, crediting the desires of physicians and hospitals to treat people locally for the expansion of medical resources in Kern County.
A variety of major companies, such as Kern Schools Federal Credit Union and Northern Digital Inc., as well as service businesses, restaurants, and shops are locating in Bolthouse Properties' Seven Oaks Business Park, Grand Island Village and Mustang Square, creating a synergy that is fueling economic vitality and supporting the many residential neighborhoods being built in the Southwest.
It was only four years ago; in 2013 that the Bolthouse Properties' medical hub began taking shape in the Seven Oaks Business Park with the opening of Houchin Community Blood Bank's centralized facilities, which includes administration and transportation offices, labs and a blood donation center on Bolthouse Drive.
"We were the first location in Seven Oaks Business Park," Gallion noted. "We broke ground literally and figuratively" on the 276-acre business park becoming pioneers in this new medical hub.
After nearly four years of operation, Gallion said Houchin is pleased with its move to the Seven Oaks Business Park.
"The building is working out wonderfully. All of our staff and operations can be under one roof; one location," he said, adding that he is not surprised that there are more medical facilities staking claims to locations in the Seven Oaks Business Park.
"I think it reflects the growth and direction Bakersfield and Kern have been headed in for some time," he said.