Live/Work/Play Village Of Belcourt Breaks Ground In Seven Oaks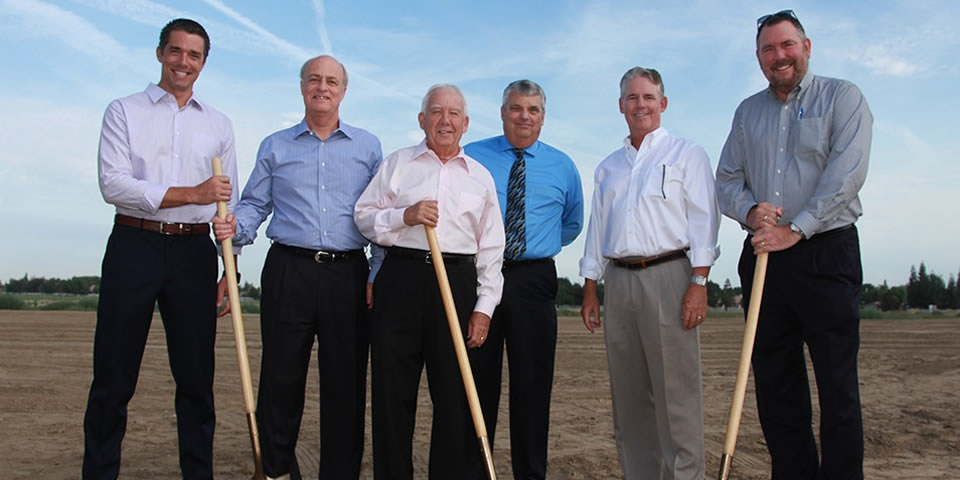 Woodbridge Pacific Group (WPG) of Bakersfield breaks ground today at Belcourt in Seven Oaks. Marking the next step for its master-planned development, WPG says Belcourt will bring an innovative, "first of its kind" residential environment to Bakersfield.
"Belcourt builds on the foundation of quality established for Seven Oaks by Castle and Cooke, and is being shaped by the clearly expressed preferences of local residents who participated in our focus group research," said WPG President Todd Cunningham. "They want to live close to retail and dining, to their workplaces, leisure choices and community activities—and this is what Belcourt will provide, in a shaded, lushly landscaped setting with a community recreation center, trails, park, public art and much more."
Belcourt encompasses approximately 175 acres in Seven Oaks. WPG purchased the land in 2013 from Bolthouse Properties, which joined WPG at today's groundbreaking. Bolthouse President Tony Leggio said the resident-inspired vision for the next phase of Seven Oaks reflects WPG's commitment to Bakersfield.
"WPG's ties to Bakersfield and its track record of high quality residential development will be a positive addition to Seven Oaks and will lead to the success we see for Belcourt," said Leggio. "We believe Belcourt will make a unique contribution to Seven Oaks and to southwest Bakersfield, and we are delighted to see it progressing to reality."
Reducing the need to drive is key to Belcourt's land use plan. WPG Partner Carl Neuss noted the connectivity of internal amenities and proximity to external destinations, which include the Seven Oaks Business Park and a 10-acre retail/commercial center owned and being developed by Bolthouse.
"Without having to drive, Belcourt residents can easily reach a core business center and desirable retail and dining opportunities, and just as easily traverse their village to enjoy its beauty, access its amenities and connect with friends and neighbors," Neuss said. "We believe a close-knit, family-focused place like Bakersfield will embrace these concepts, and we are eager to bring Belcourt to Seven Oaks."
Enriched by shade trees and seating areas, Belcourt's network of pathways, sidewalks and trails will create an inviting setting for residents to enjoy on foot or by bike. Traffic circles, cul-de-sac streets and a paseo will further de-emphasize the car. Focal elements will include the lake-framed grand entry, a bell tower, a community park with turf amphitheater and a sculpture garden.
"Belcourt's emphasis on alternatives to driving and on a host of discovery points experienced on foot truly puts people first," said Senior Project Manager Jeff Eittreim. "And with key amenities established in conjunction with the first new homes, residents can enjoy their new lifestyle immediately."
WPG now moves to start construction on the first homes it will build here, and to select the guest builders who will be participating with WPG in Belcourt's development. WPG expects to open the Belcourt Welcome Center in early 2015, where interested home shoppers can learn more about planned residential neighborhoods within Belcourt.
All homes will be detached and designed for varied households that WPG expects will include families, empty nesters and active seniors. The Model Home Grand Opening and home sales are slated for early summer 2015.
A privately held, selective developer/homebuilder with an excellent track record, Woodbridge Pacific Group is committed to architecturally distinctive homes in premier locations. Jeff Eittreim heads its Bakersfield office at 1518 Mill Rock Way in Bakersfield.