Kern Schools Federal Credit Union Headquarters Building Underway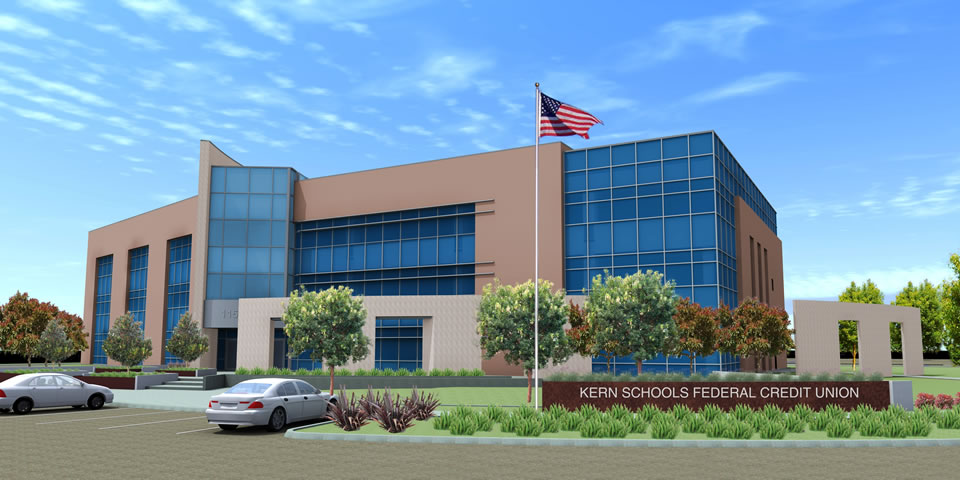 Kern Schools Federal Credit Union and Bolthouse Development Company announced that construction is underway for Kern Schools Federal Credit Union's new administrative office building in Seven Oaks Business Park. August, 2014 is targeted for move-in.
The credit union purchased a 7.1-acre parcel from Bolthouse at Seven Oaks Business Park, and broke ground in July for its new, 60,000-square foot headquarters building, which will be located at 11500 Bolthouse Drive. "We are pleased to have such a well-respected, local financial institution like Kern Schools Federal Credit Union as part of Seven Oaks Business Park," said Tony Leggio, President of Bolthouse Development Company.
Improved cost and operational efficiencies of Kern Schools new corporate offices will translate into enhanced product and service offerings to its members, according to Kern Schools President and CEO Steve Renock. Renock said the new facility will address the credit union's current and future growth needs, and that the business park's location in a growing area of Bakersfield made it top choice for the administrative offices relocation. He also noted the Bolthouse commitment to Bakersfield as a plus for Kern Schools. "Bolthouse has a long term outlook that means quality in every aspect of property development, so we're confident that our new location will offer an excellent environment for our team members," said Renock. "Bolthouse has deep roots in Bakersfield and a dedication to doing things right that benefits us all."
Kern Schools joins Houchin Community Blood Bank at Seven Oaks Business Park; Houchin opened its new administrative/donor center in March. Close behind these projects are Bakersfield Assisted Living and Memory Care, Hoffman Hospice, and Seneca Resources, which plan on breaking ground early next year. Bolthouse credits accelerated development activity to the fact that Seven Oaks Business Park is an integral part of the Seven Oaks master-planned community, the park's proximity to business and transportation corridors in southwest Bakersfield and to the improving economic picture in Kern County.