Houchin Blood Bank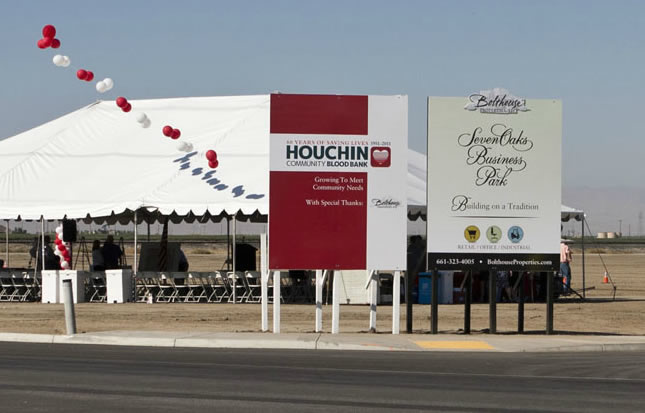 Ground was broken September 8th on a $10 million, 42,000-square-foot Houchin Community Blood Bank complex that will be built in Seven Oaks Business Park at Buena Vista Road, south of White Lane.
The complex will consolidate several of Houchin's services that are now housed in multiple locations. They include: laboratory, quality assurance, manufacturing, distribution, information technology, community development and transportation. The complex will also include a full donor drawing site, with Houchin's existing Truxtun Avenue location remaining as a blood drawing center.
Bolthouse Properties donated 5 acres for the complex, in the new Seven Oaks Business Park.
Bolthouse's donation "will allow Houchin to build a state of the art facility and continue our vision of providing Kern County with a safe and reliable blood supply for the next 60 years," said Houchin President and CEO Greg Gallion, who recalled Houchin's "humble beginnings" in 1951, with "a group of community leaders and doctors who envisioned supplying blood for the emergency needs of local hospitals."
"In this day and age of mega and national health care providers, Houchin is a unique community asset which is well deserving of our support," said Anthony Leggio, Bolthouse Properties president.
Over the past six decades, medical innovations and Kern County's expanding population have greatly increased the local demand for blood.
While this means an increasing number of people must be encouraged to donate their lifesaving blood, it also means that Houchin must remain efficient and innovative in the way it collects and distributes blood products.
"Expanding and consolidating. Houchin services will allow the blood bank to meet the needs of the area's growing population and demand for blood and blood products," said Gallion.
Thursday also marked the official groundbreaking for Bolthouse Properties' Seven Oaks Business Park.
Go to www.hcbb.com for more information about the construction of Houchin's consolidated complex, as well as ways to help.